Yes, I had the honor to design a new look for the CR7 fragrance by Christiano Ronaldo. It has to be a masculine design of course, so I created one with a marble background and the illusion of a hand holding the logo. And I created one with a wooden structure and a chain holding the logo. I love both these design and then I started thinking: Perhaps one of two of my paintings would look good too on the fragrance bottle. Hell yeah! I love that even more. The second bottle one of my neo-expressionistic popart paintings and the fourth design has a Doodle painting. It is hard to pick a favorite. I love 'em all. Let's see what Ronaldo thinks…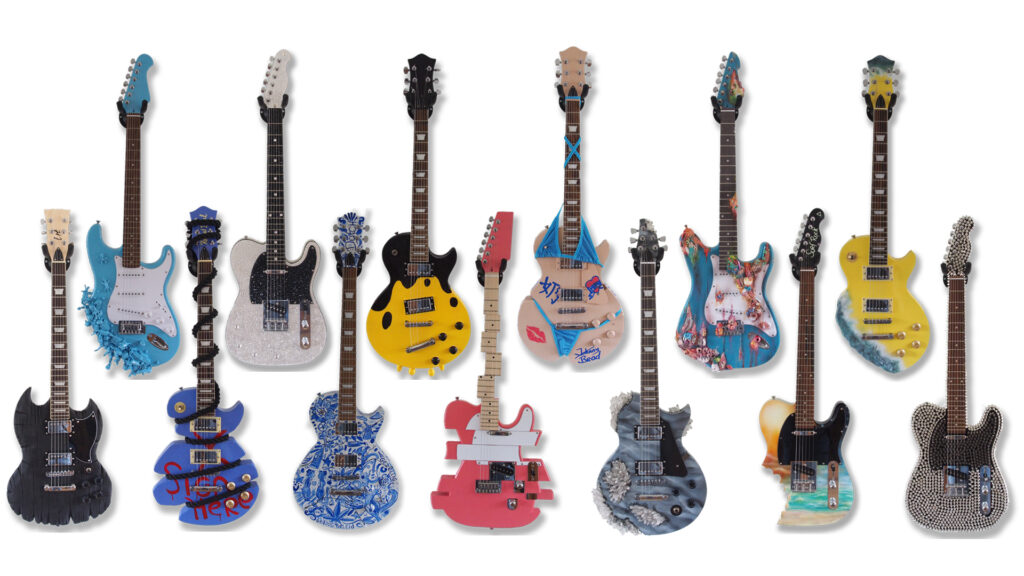 I have created so much art, but I've never done sculpting… until now.  I bought thirteen guitars. Different models, different brands and I turned them into wall sculptures. Why? Because it's cooool! Loads of people have guitars on the wall. I love that! The shape of guitars are so beautiful. It is already pure art. I thought: why not change it a little, give it a bit of a story, a suitable rock title and make them come to life. This is a serious rock 'n roll series. I enjoyed creating these so much. From sawing, to burning, clay, rocks, stones, all of it. 
From left to right:
Lit, Play, Record Deal, Swarockski, Dutch Rock, Drip Rock, Distortion, Rock Bitch, Hard Rock, Rock Bottom, Surf Rock, Rotten Song and Punk Rock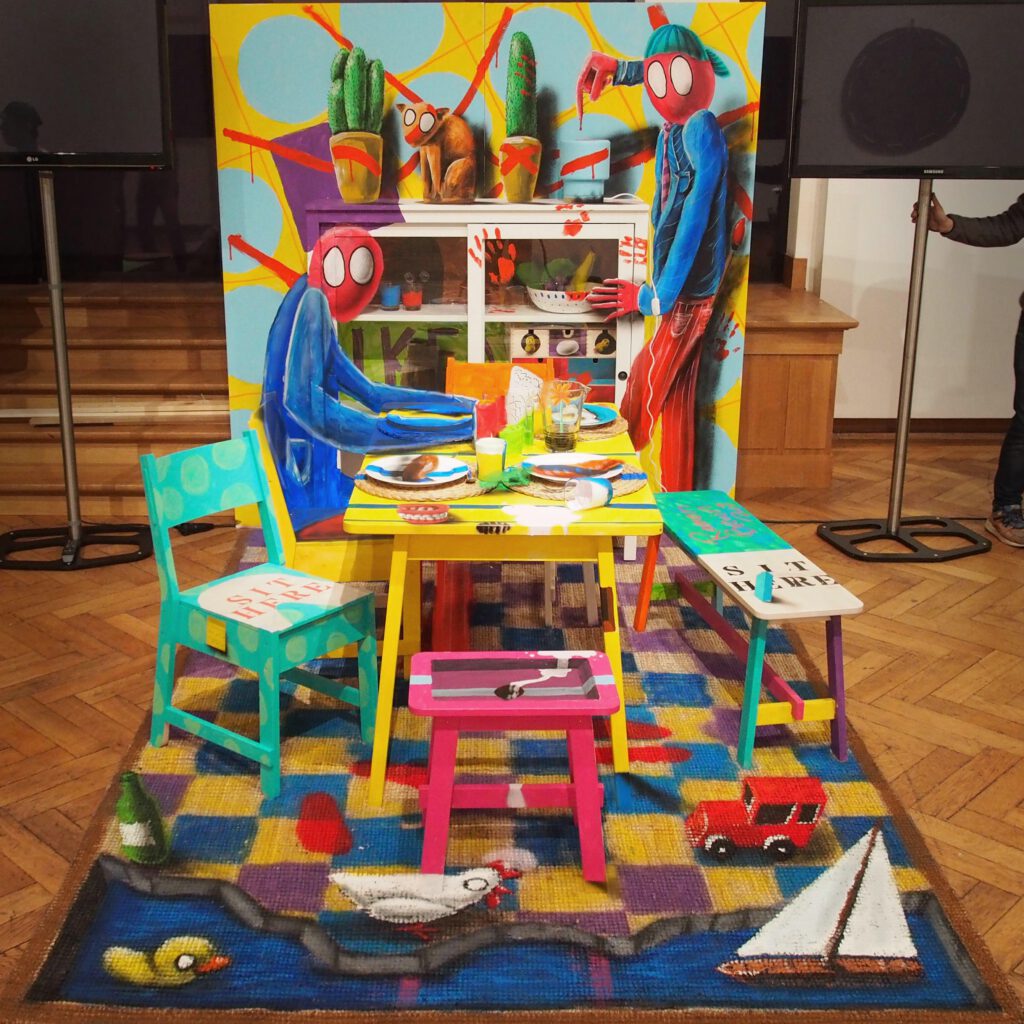 It doesn't happen very often I got a complete furniture set delivered which I could paint. A carpet, table, chairs, bench, cabinet, plates, cutlery, lamp, vase and much much more. everything needed to be painted.
I created a very cool interactive optical illusion. If you look closely you can see two spots on the left chair and right bench which people could actually sit on and be part of the artwork. It is covered with bigger and little 3d illusions. Probably one of the most fun thing I have ever done.
I did an interview too in which I explain a thing or two. 
It was all sponsored by Ikea Belgium and you wanna know something fun: I had to put the furniture together myself….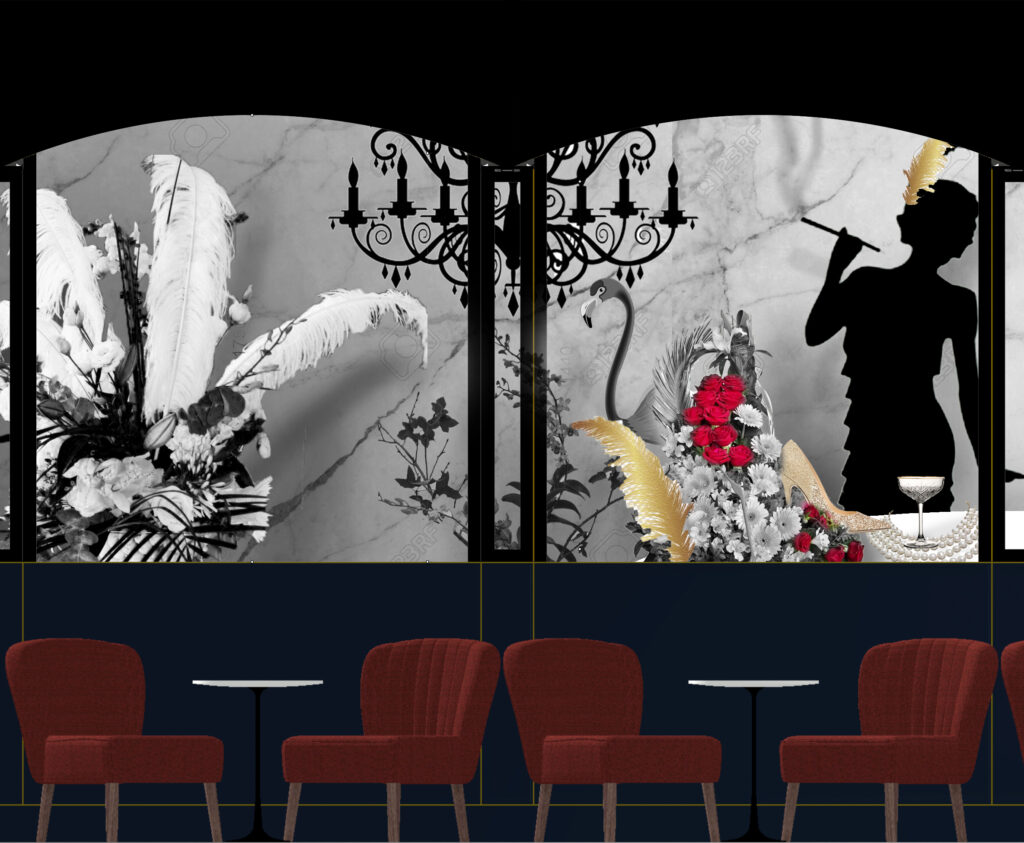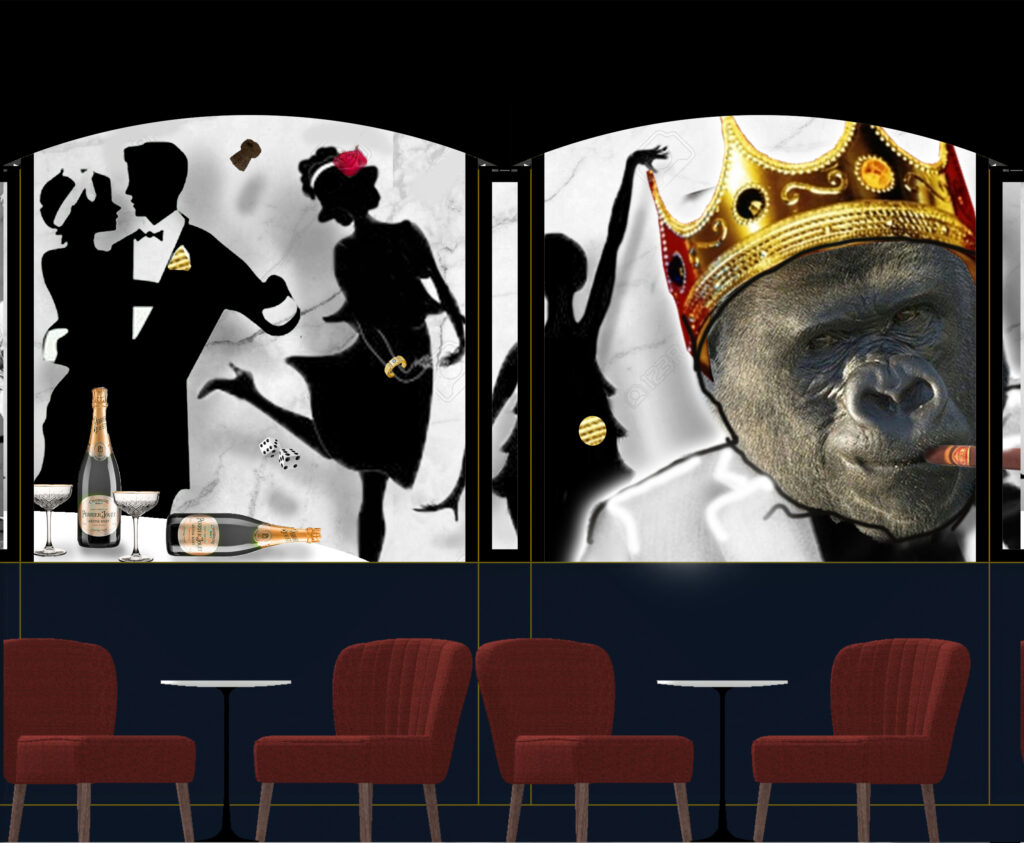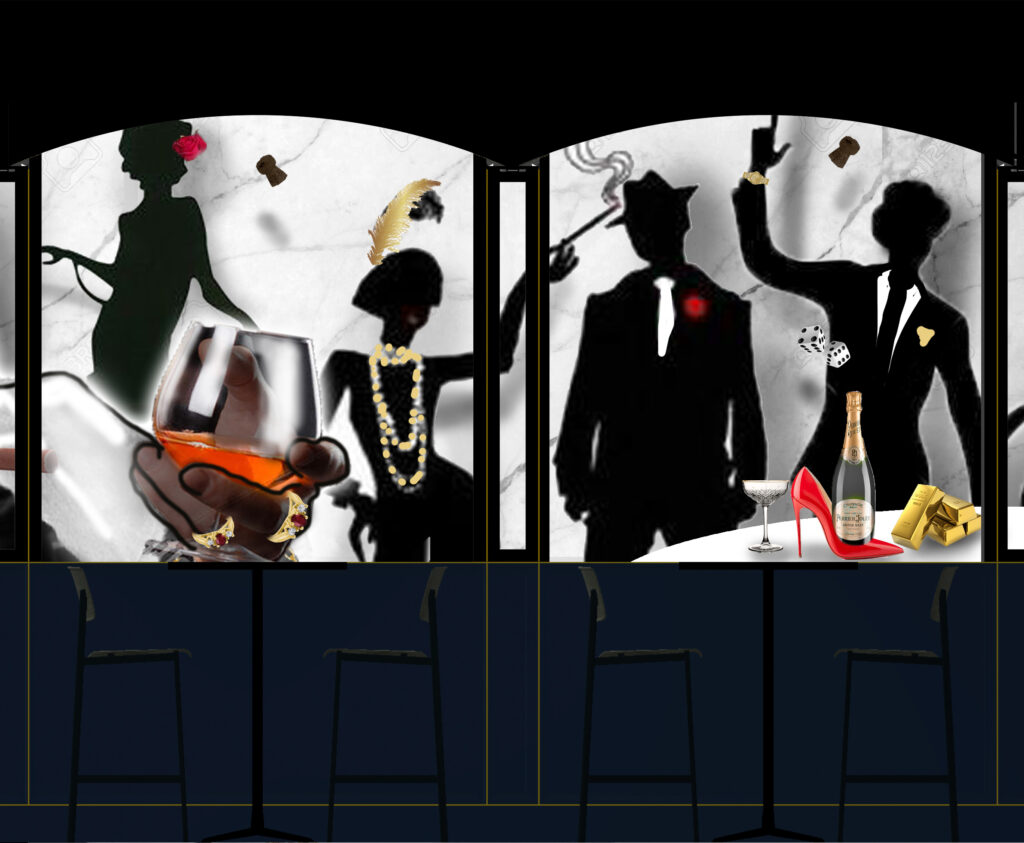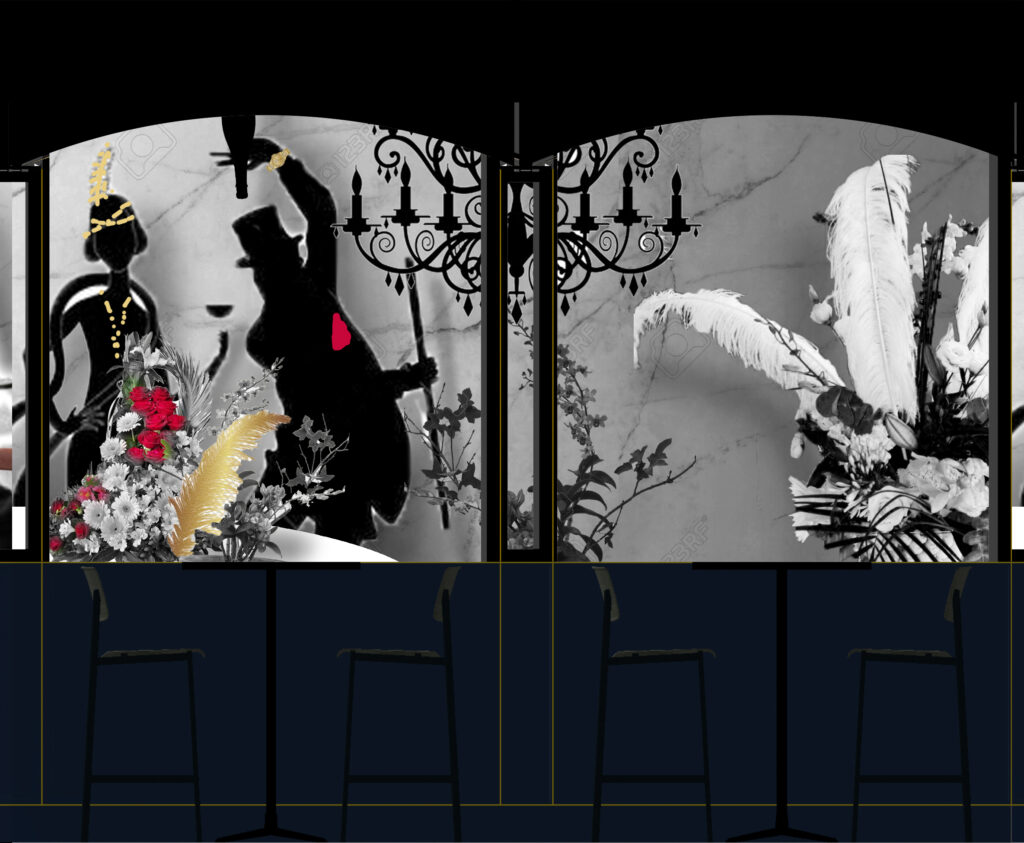 This is a mural design a made for a brand new cocktail bar. Of course it is a draft, but in real it is a 15 meter / 50 foot design. 
The life of an artist is sometimes all over the place. You gotta love a good challenge!
I like to create One Minute videos. In just a single minute I  show you in a funny way how I created a painting or a drawing. Why you ask? Two reasons… Recent studies show the average online focus is 0,7 seconds. So I have less than a second to catch your attention. And the second reason: It amuses me. It amuses me a lot! 
I sometimes created longer, more serious videos as well. I always find it fun to see how something is created or how an artist works.. I kinda assume you like that too. And if you don't like it, you most likely love the One Minute Video's…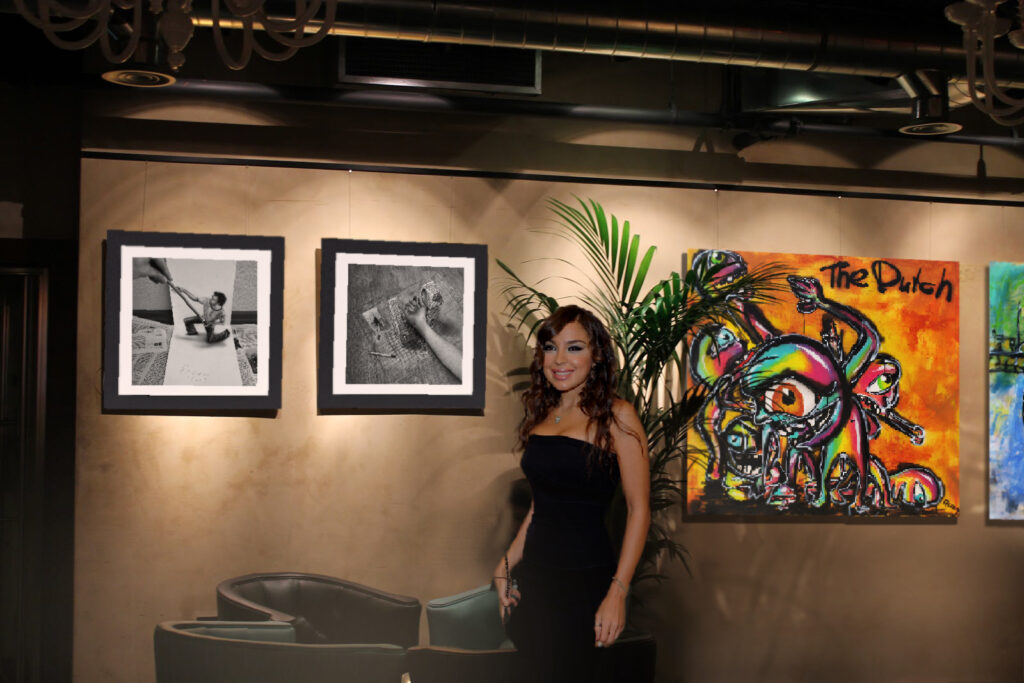 If you'd ask me which was my coolest exhibition I'd say: Cellar 165 on Sloane Street London. The most expensive street in whole of London. Amazing experience. It was a solo show by invitation of Leyla Aliyeva, which is the president's daughter of Azerbaijan. We had a dj, Champaign, caviar and around six bodyguards (no, not for me) and a crowded exhibition space. Such a blast! Lovely to meet mrs Aliyeva as well. 
Weeks before the exhibition I had an interview and photo shoot for a massive article in Baku magazine, which is also owned by Leyla. This was a very good way to invite people to the exhibiting. In the end I pretty much sold everything I brought! (except for the orange painting The Dutch, which was sold years later in Almere, The Netherlands. No shit!)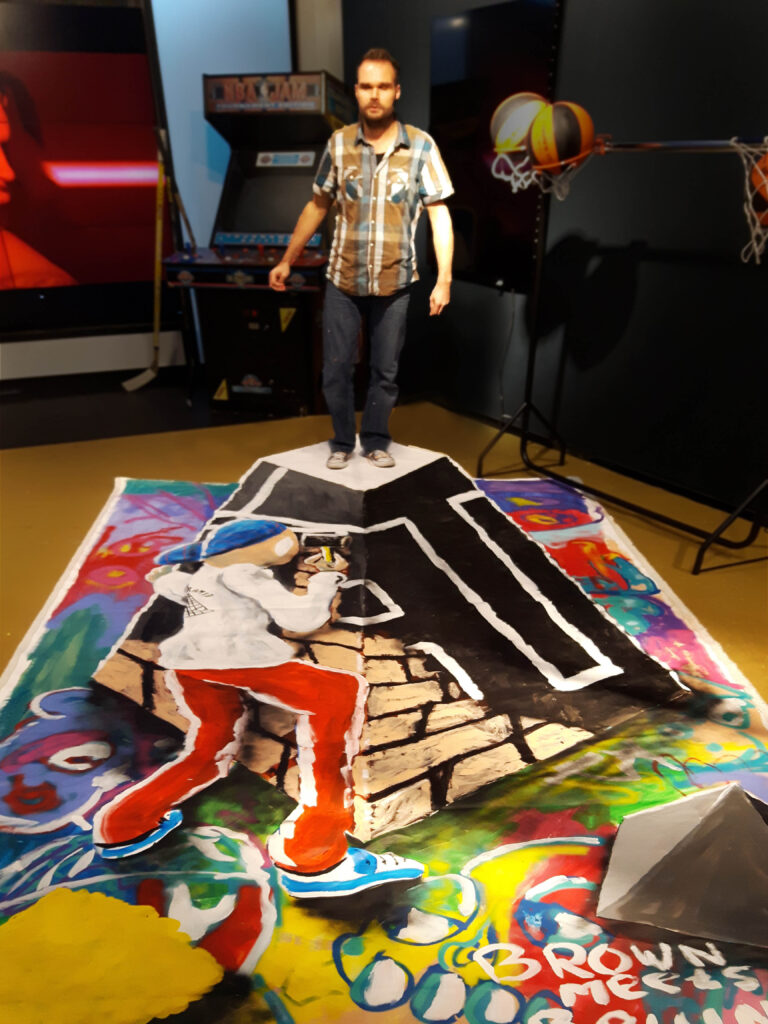 Have you ever heard of Chris Brown? I bet you did lol. I was asked to do a live painting during the launch of Chris Browns' clothing brand Black Pyramid clothing in Amsterdam. And I though: Why the hell not? Surrounded by vloggers and influencers and other famous people I did my thing and I painted during the party. Of course I enjoyed heaps of Scroppino's and shared a laugh with the people at the party. 
The design I did was partly the logo of Black Pyramid and partly inspired by the art of Chris Brown. Yes, he paints too. His style is more of an graffiti style. It had to be interactive so I painted a Black Pyramid with the top cut off, so people could stand on it and take a photo. I named it Brown meets Bruin. 
And in the end I ended up on Chris Browns' Instagram. (I believe I was still sober then) —>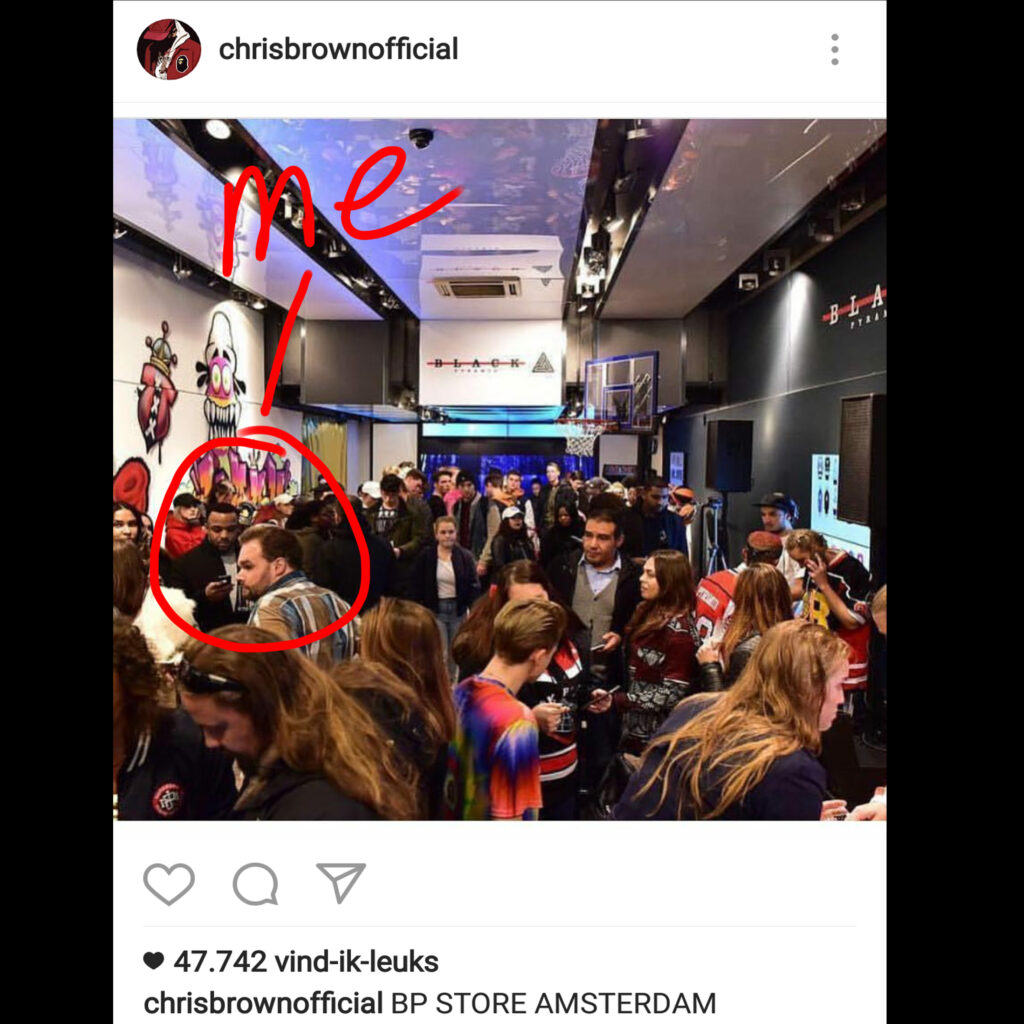 I apologize for the poor quality of this video. I filmed it with a potato somewhere around 2012. Nevertheless I would love to show it to you, cause if you are a fan of 3d drawings this looks really cool . You can actually see the distortion in his lower jaw when I move the camera sideways. Cool, right?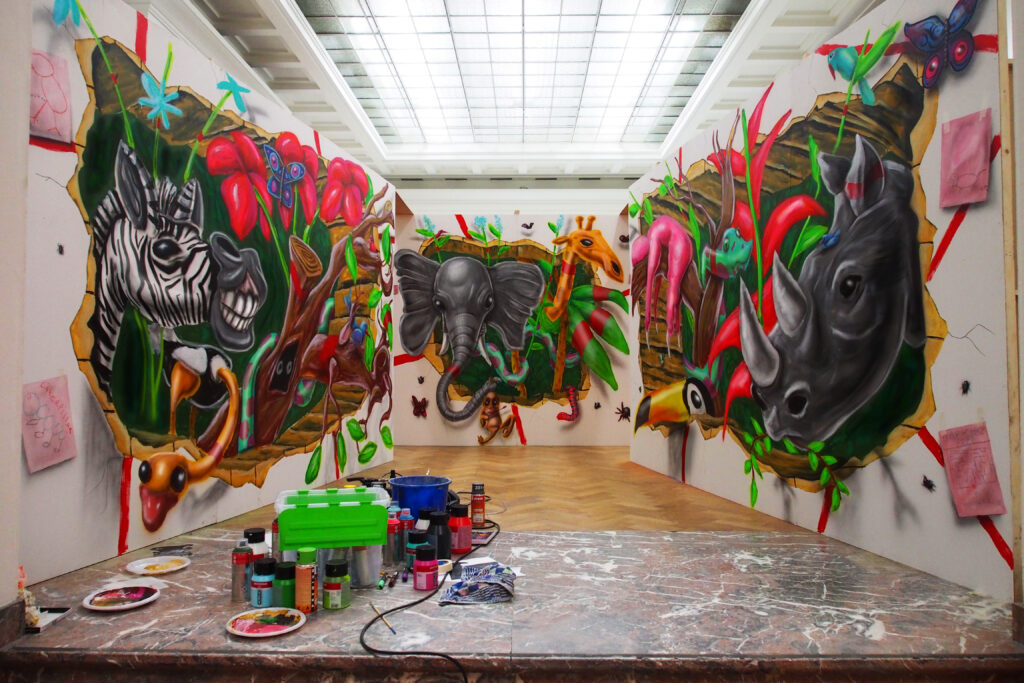 Have you ever heard of the Art Truc Troc festival in Brussels, Belgium? A really cool art festival in which you can bid on the artwork, but not with money. You can trade it for a job, materials or anything you have to offer.  A fun experience for the visitors.
And I was asked if I could paint the entrance of the venue. Of course I can! They preferred a cool jungle theme which looked happy and fresh. No worries! I love it all.
The venue itself was Paleis van de Schone Kunsten in Brussels. To me that was really mesmerizing. I was allowed to paint rhino's, elephants and zebra's between original Picasso paintings. It hardly doesn't get any better then that!
If you look closely to the artwork you can see all kinds of cool little details. That is kinda my thing. It is not just the big animals, it is also the small frogs and little spiders crawling around. 
Have you ever seen such a big 3d painting? This one was created on a square in Wilhelmshaven, Germany. In total 150 meters long and approx 50 meters wide. It was inspired to my 3d ship drawing, which went viral three times. At the same time of this 3d painting I held an exhibition of interactive 3d paintings the venue next to the painting. The best thing about exhibiting in such a way is that every visitors got a complete experience in art and optical illusion. Due to the fact it was interactive, people stayed and tried it all them selves. That is what it's all about. Sharing an experience.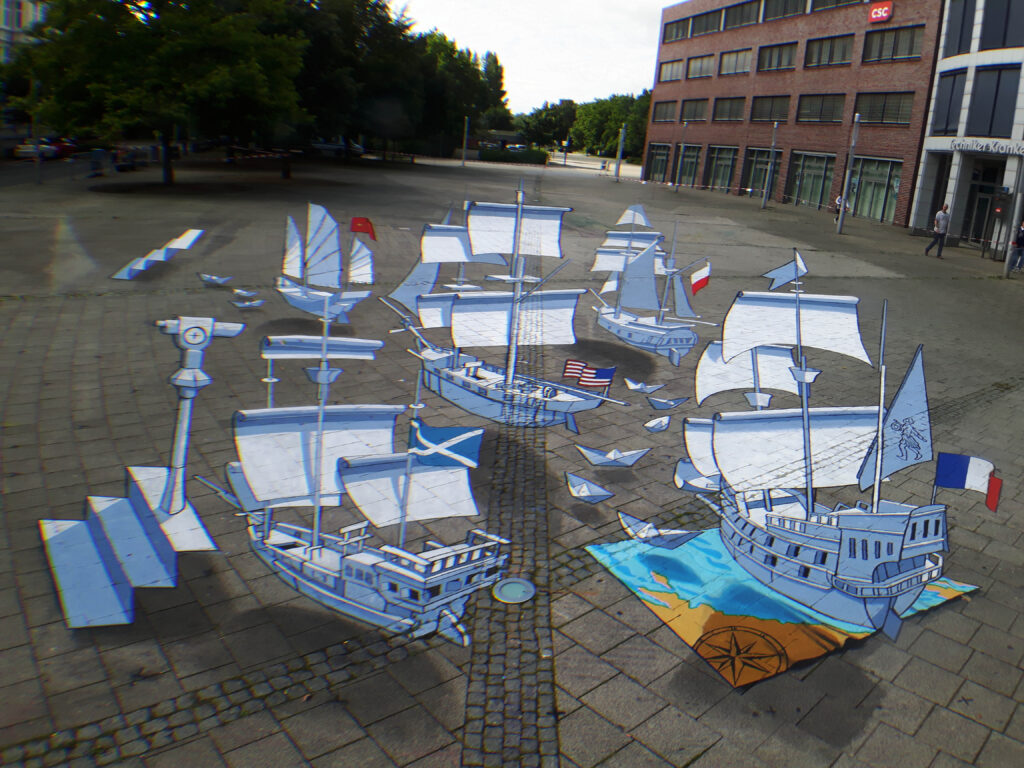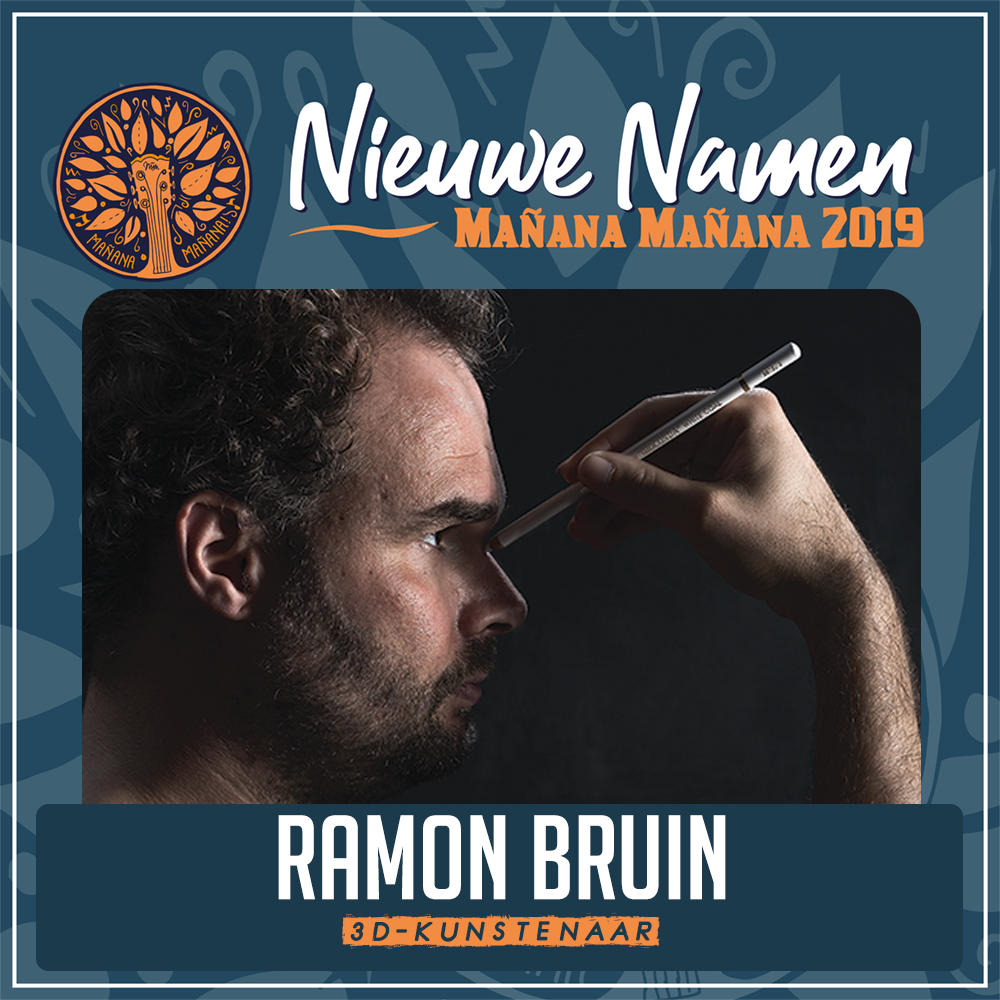 How would you create a 3d drawing on a field of grass? I was invited to paint live on the Manana Manana festival, which is a festival of the samen organisation as Zwarte Cross. Cools stuff , but the question how kept me awake. In the end I used 10 MDF panels of 122 x 244 m each. It worked, but is was far from being ideally. After three days of paint, rain and people stepping on the art work the wood slowly starts to bend.  But we succeeded! People loved it. In the evening I presented myself and my art in the tent in front of a large audience and all in all we had a really fun festival weekend!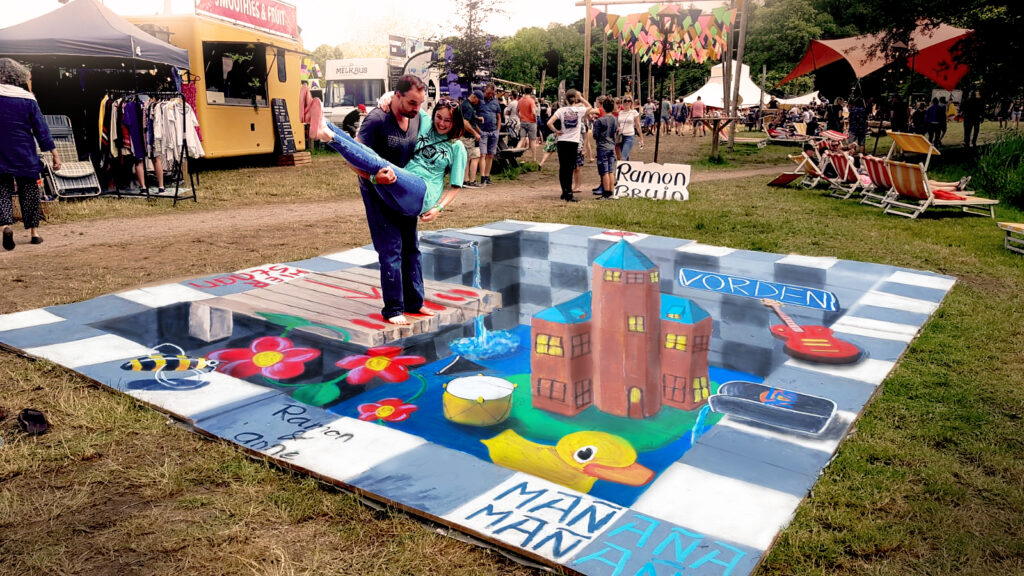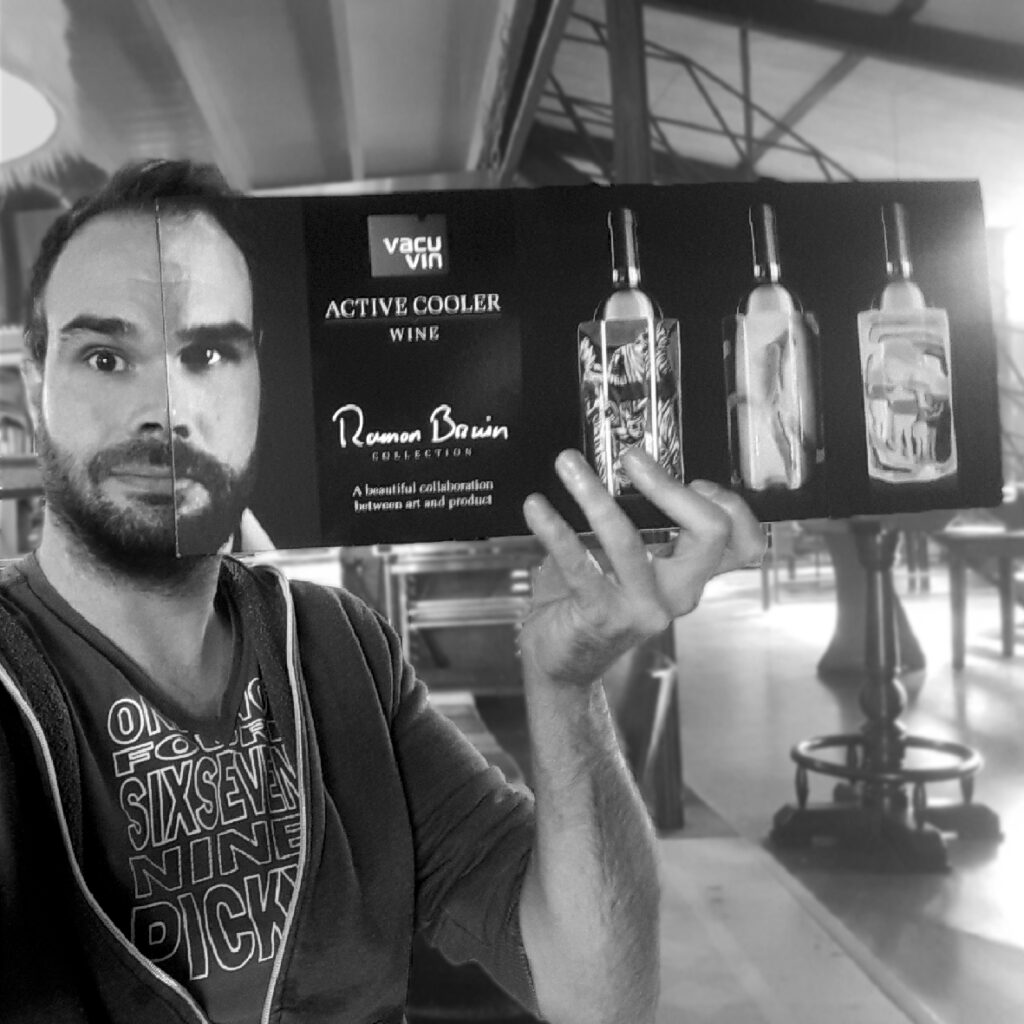 Any wine lovers here? I got my own series of active wine coolers made by Vacuvin. These are sold in over 70 countries in the world and that is just awesome! I love the whole design of the packaging. I created three unique paintings which are printed on the coolers. The coolers themselves are now also 3d illusion. Really really neat!
This image is an interview I did with the lovely people of KBS South Korea. The show was about Dutch artist and guess what: It showed me and Rembrandt. How cool is that, right?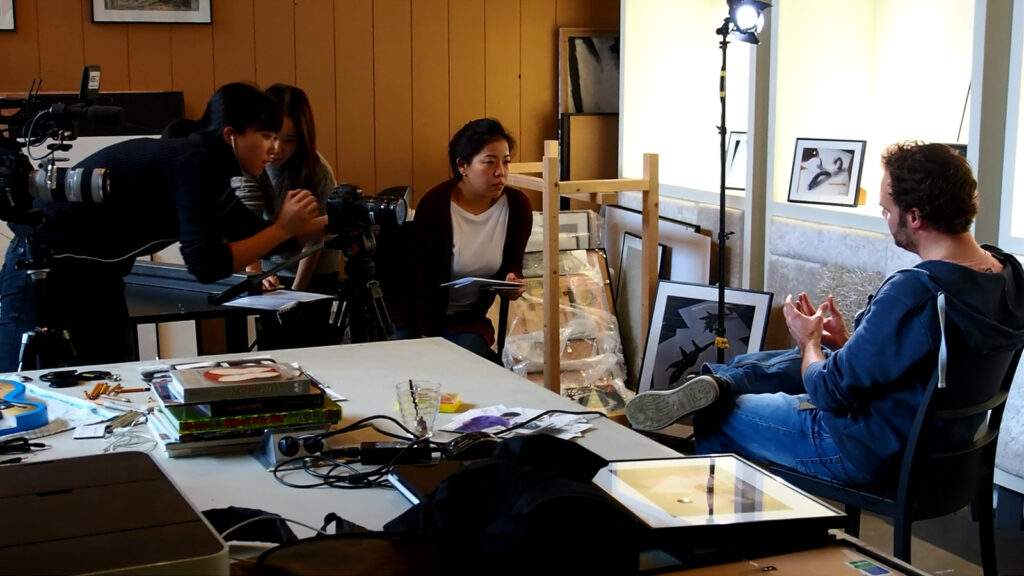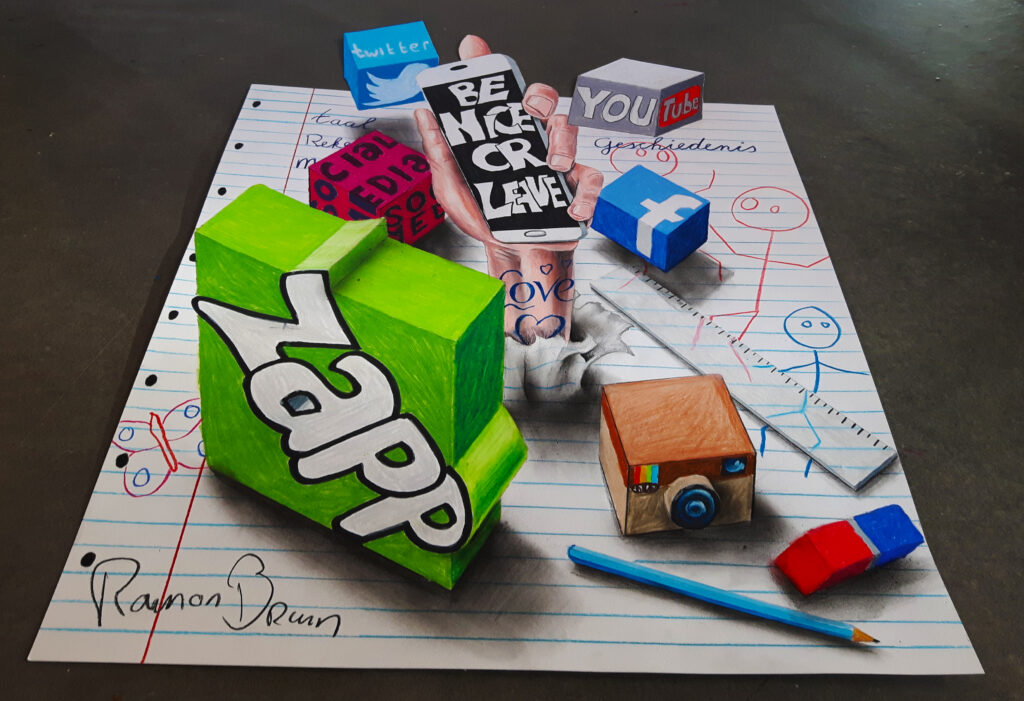 I'll let you know a little secret! I had the honor to do a drawing on live television: Zapp live NPO (Dutch television) hosted by Klaas van Kruistum en Saskia Weerstand. Cool stuff! The topic of the show was Stop Cyber bullying. So I created this drawing, but in all fairness; I can't draw a 3d drawing like this within a few hours of live television. So what I did was I created four drawing prior to the show. One drawing was 25% finished, the next one 50%, the third one 75% and the last one was the finished drawing. This way I had no stress finishing the drawing in time and on television it still appeared I drew it 'live'. I had a blast and it doesn't happen often I have my own dressing room! Thanks ZAPP Live!
And speaking of different views… I really like the idea behind this drawing. It is a self portrait. I drew myself in a 3d perspective  (90 degree angle) and took a photo. So it is a photograph of a drawing of an artist who is drawing a camera. Funny as hell, right? And guess what happened when I really liked it? Yes, no one else like it….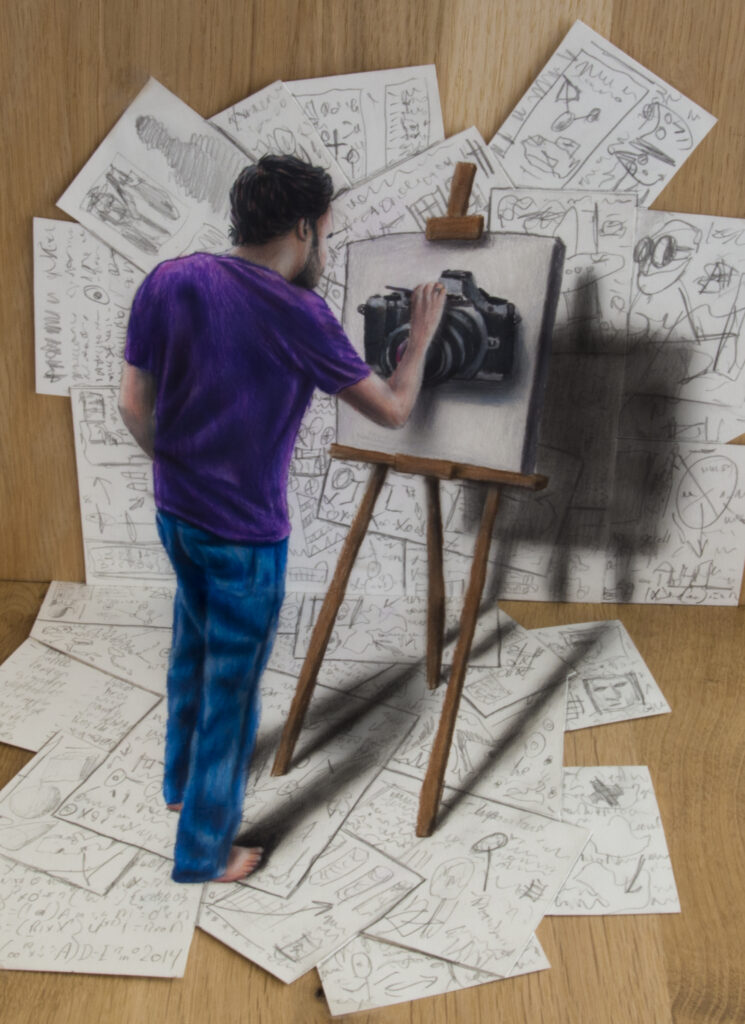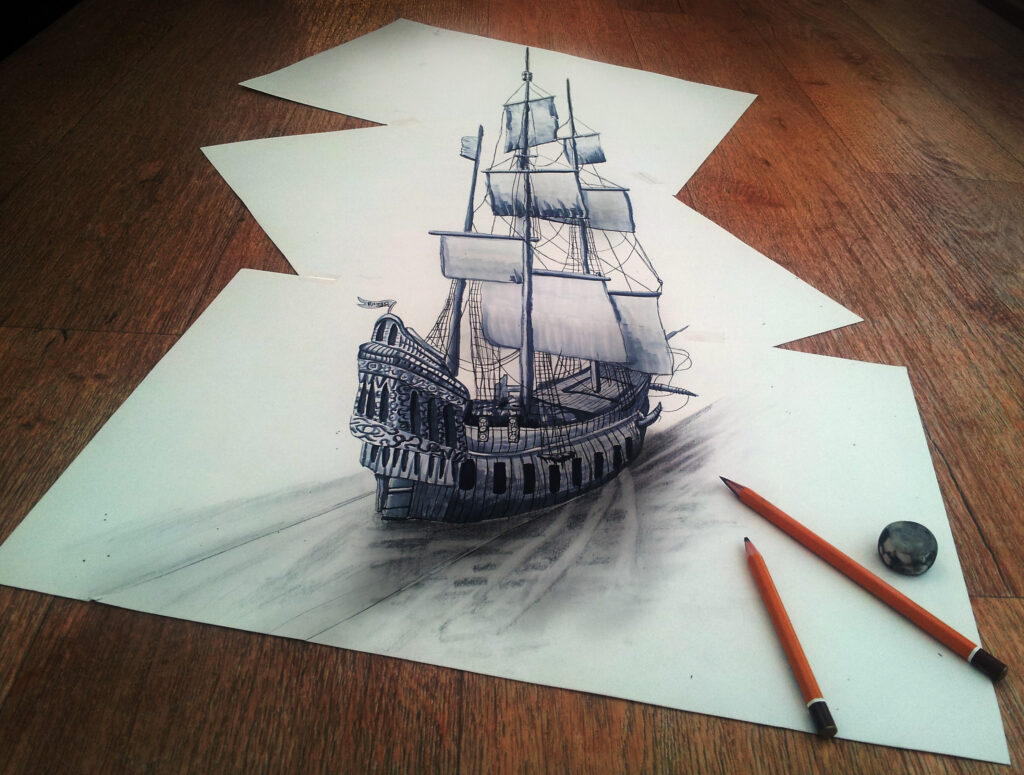 Speaking of viral. This bad boy sailed a few times around the world too. It went viral instantly. And you know the fun part? When I finished this drawing it was laying around in my studio for around three months, because I didn't like it. Somehow I wasn't satisfied and decides I would post it online when I had absolutely nothing else to post…
After I posted it, it went instantly viral and got me ton of interviews, requests and compliments. I really didn't know what happened. When I really like some, it doesn't get noticed and when I don't like something the world goes crazy. Quite a different view, right? I learned a lot from it. Even when I don't like it, there is always someone who will enjoy it!
We gotta start somewhere, so why at the very first start. Back in 2012 I was airbrushing drum kits, guitars, motorcycles, helmets, cars and loads of other stuff. In the evenings I enjoyed drawing. Trying out stuff and when finished posting them online. I discovered a difference in the drawing on the photo and in real when I tilted the camera a little. I then started adjusting the drawing to the camera angle. That was a crazy discovery! Suddenly the most simple drawings came to life. 
So after practicing for a bit I drew a snake. Took a few photo's and realized I was missing something. So I added a few torn pieces of paper and pretended I was holding the snakes tale, took the photo from the exact right angle and magic appears. 
Without me realizing it this Snake went viral. I woke up the next day and I had around 300 interview requests in my mailbox. From the New York Daily News to the Herald Sun and Brazil to Japan. What a way to start as an artist, right?